Join us each week this November and add a little fiesta to your Fall nights!
It started as a call to see a "forgotten zone" of people experience dignity and hope.
Today we are a community of partners and friends who come alongside local leaders
through the work of One Life to encourage and support children's education, support and
mentor local leaders, facilitate community fellowship and unity, and meet basic human needs
such as housing, food, and hygiene, as well as emotional and spiritual support. 
7:00pm each Tuesday in November, we will post:
One Life is able to impact communities because we partner with leaders already working in local communities. As these relationships have developed we've seen and heard from these men and women the desire for training and equipping in order that they can serve their congregations and neighbourhoods more effectively. We're grateful for groups in Canada, like Chilliwack Alliance Church, that have grabbed the vision to help equip leaders in San Quintin!
Supporting Leaders in San Quintin
EQUIPPING AND RESOURCING LEADERS
One Life believes in the strength that comes through unification. To support this, we come along-side local leaders and pastors through training programs and personal support, along with educational opportunities and humanitarian aid for their communities.
If supporting local leaders/pastors is important to you, we'd welcome your financial partnership so that our team in Mexico can continue to bring life-giving aid and soul encouragement to local front line partners.
Your donations provide bibles and study resources, enable us to host monthly 'care group' gatherings (ministerials) for pastors, training seminars, and couples enrichment retreats.
Equipping and resourcing the local church and leaders is an effective way to see lives impacted by the love of Jesus!
This one's a favourite of David Ornelas, our Admin Assistant for OL Mexico. Give it a try this week and let us know how it turns out!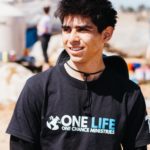 "The Wetlands" at the Bay of San Quintin
by Mark N. Lee
5″ x 7″ print
with donation
#ilovesanquintin #olcelebration #olocministries
Each week's content will be up for the duration of the week. Our hope is that you will still celebrate alongside us this month, even if we can't gather together for our annual dessert evening. In fact – we'd LOVE it if you would share photos of you "joining" us (enjoying some Mexican cuisine, making one of the posted recipes), or send us a line or two of encouragement that we can share online.